We build quality
product experiences
At Van Aalst Marine & Offshore, our commitment begins well before the first blueprint is drawn. We embark on a journey of collaboration, partnering with each client to delve deeply into their specific needs. This collaboration isn't just about understanding requirements, it's about aligning our expertise with their vision to define the true essence of a successful project.
No two vessels are the same; each has its unique set of challenges and demands. Recognizing this diversity, we've dedicated ourselves to crafting systems that aren't just one-size-fits-all. Instead, our tailor-made solutions are precisely designed, ensuring every vessel gets a system that resonates with its specific demands.
Our promise is not just to meet client expectations, but to consistently exceed them. And our track record speaks for itself. Over the past decade, we've had the privilege of designing and delivering custom-made products for more than 60 esteemed clients, embedding our mark of excellence in each endeavor. We aren't just building systems; we're constructing legacies of unparalleled quality and performance.
Over 60 years of offshore
service.
Van Aalst Marine & Offshore is a leading company that has provided
over 60 years of offshore service. We aim to deliver the
best service possible. Therefore we provide yearly
health checks of the systems and are 24/7 available to
answer any questions you may have.
In 1954 Arie van Aalst founded the first Dutch pneumatic bulk handling company: The van Aalst Group. Driven by a desire to beat customer expectations, the family business focussed on innovative solutions. Resulting in the first pneumatic self-discharging cement carrier and a new company founded in 1998: Van Aalst Marine & Offshore.
The company is currently run by the third generation. Wijnand van Aalst, grandson of Arie, aims to create a business that will outlive future generations. Due to this the focus of the company lies on increasing efficiency, sustainability and thus reducing emissions.
Our mission is to provide
the best quality.
Bulk handling systems are of major importance for ships, therefore, the quality should be impeccable. Van Aalst Marine & Offshore has over 60 years of experience in the offshore industry. This has resulted in extensive knowledge about the offshore industry and the requirements that the vessel systems must meet. Resulting in products of immaculate quality that will last for years to come.
The history of Van Aalst Marine & Offshore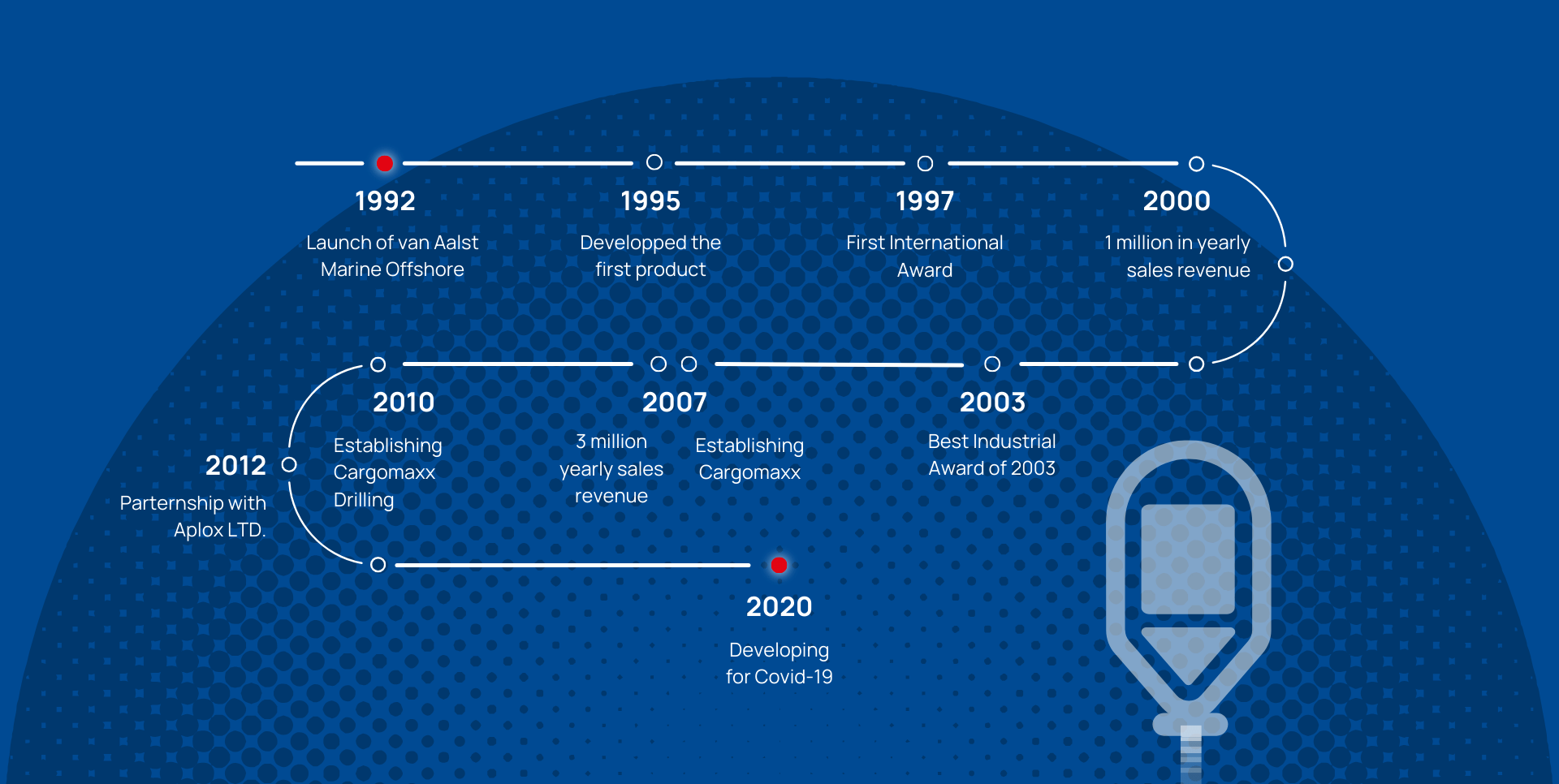 Van Aalst Marine & Offshore is part of Van Aalst Group
Van Aalst Marine & Offshore stands as a pivotal segment of the esteemed Van Aalst Group, deeply rooted in a rich legacy of maritime excellence that spans several decades. By drawing on the collective synergies of the group, we consistently offer not just unparalleled service, but also solutions imbued with relentless innovation. Our expansive global outreach means we're strategically positioned to meet the dynamic needs of the maritime industry, staying true to the Van Aalst Group's tradition of excellence while forging new paths in modern marine solutions.
Awesome people work here to change lives
The company is located in Dordrecht, The Netherlands. Dordrecht is situated 25 km south of Rotterdam. The facility has approximately a 9000-m2 area with approximately 3000-m2 for production and offices. The facility has a waterfront of 150m with easy waterway access via Rotterdam to the North Sea. With this waterfront we can convert cargo vessels up to DWT 10.000 at our yard. The facility has also easy road access.
We have over 60+ years experience
Curious about the innovative pneumatics behind our systems? Dive deeper into how we can revolutionize your operations. Don't hesitate to get in touch for a comprehensive discussion.